When you book professional transportation through a black car service, you expect a high-quality experience through and through. But, what is a black car service? And what luxury amenities will you receive when you reserve a ride? 
In this article, discover what a black car service is and how you will get the VIP treatment every time you book a ride. From classy and clean vehicles to A+ customer service, you'll get a firsthand look at how lavish chauffeured transportation can be! 
Let's hop right in.
What is a Black Car Service?
In short, a black car service is a premier, high-end professional transportation service. As the name suggests, all of the vehicles offered by a black car service company are jet black, which gives the vehicle a rich, professional look. 
Accompanying the beautiful black vehicle is an experienced driver, typically dressed in a formal black suit. This ties the whole package together and provides the passenger a sense of security and refinement. After all, a black car service is considered the ultimate luxury chauffeured experience.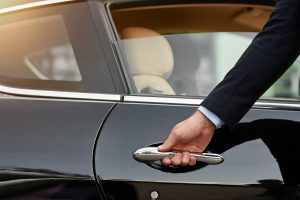 What Does a Black Car Service Do?
It's rather simple. The overall goal of the service is to offer passengers a safe and comfortable ride to special events. These events often include:
Bar/bat mitzvahs

Quinceaneras

Sweet 16 

Prom and homecoming dances

Business travel

Airport transport

Vacation destinations

Funeral service

Formal venues, such as galas

Weddings 
To accomplish this goal, a black car service has an entire fleet of vehicles that range in different sizes and styles to accommodate the number of passengers that request the transportation. Depending on the group and the venue, the primary passenger has the option to choose which vehicle to reserve. 
8 Luxury Transport Amenities You'll Love
So, now that you know the answer to what is a black car service, you're probably wondering, "What is it like to travel with a black car service? What can I expect?"
Don't worry, we're not going to leave you guessing! Keep reading to get a quick sneak peak at what you can expect when you book a black car service. Here are the top 8 luxury amenities that are included in professional transportation. 
1. Meet Your Personal Chauffeur
Picture this: You step outside to see a shiny black Cadallic Escalade waiting for you. A well-dressed gentleman greets you with a smile and ushers you to the door. As he offers you his hand to help you into your seat, you get your first glimpse of pure luxury. You take in a deep breath as the wonderful smell of fresh leather enters your nose. You can't help but think, "Is this heaven? Pinch me, I must be dreaming!" 
And guess what? This is just the beginning! From the moment you step into the vehicle to the final mile of your ride, your professional driver will make sure your every need is met. Finally, you don't have to worry about stressful traffic or convoluted GPS directions, your personal chauffeur will take care of it all!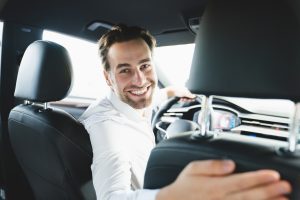 Your Chauffeur Will Exceeds Expectations
Whether you're decked out in your finest attire to attend a special event or you're filled with adrenaline as you make your way to one of Orlando's top theme parks, your personal chauffeur will make sure you arrive on time and in style. 
Even if the weather is stormy and the roads are slick, you can count on your driver to get you to your destination safe and sound. Plus, you don't have to worry about getting rained on once you arrive. Your chauffeur will be sure to lift a big, black umbrella over your head and walk you to the front door. 
Your driver will ensure your comfort and safety 100% of the time – all while maintaining class and professionalism.
2. Ride in Classy, Comfortable Vehicles
Cadillac, BMW, Mercedes Benz, Lincoln. What do these names have in common? They're all luxury vehicles, and they're part of the amazing black car service fleet! 
When you book your ultimate chauffeured experience, you get to decide which luxury vehicle you take. Here are to name just a few you'll get to choose from:
Chevrolet Suburban 007

Cadillac Escalade

Continental 825

BMW 7 Series

Mercedes Benz Sprinter

Ford Transit Van

Lincoln MKT Stretch Limo

Cadillac Escalade Limo
No matter the size of your party, you will have a comfortable and spacious vehicle to accommodate everyone. Whether you want a solo ride to and from the Orlando airport, or you need the ultimate limo to fit up to 19 passengers, you'll get a vehicle that will take care of your needs. You can even opt for a mini bus or a motor coach. 
Each vehicle in a black car service has commercial auto insurance and all of the drivers are licensed with approved background checks, so you can rest easy knowing you're in good hands.
Ready to get on the road? Your chariot awaits!
3. Get Dazzled by LED Lighting
Don't worry, you probably won't have to worry about the flashing lights of paparazzi cameras as you step out of your show-worthy Cadillac Escalade Limo. But, it will certainly feel like you've just walked onto the red carpet when you see the dazzling LED lighting illuminating your exit.
All of the vehicles in a black car service are equipped with quality LED lights both inside and outside of the vehicle. You'll never miss a step, even if it's late at night and pitch black outside. 
Plus, LED lighting is essential to make those special moments even more magical. For example, as a newly wed bride and groom make their grand exit from their reception, an illuminated shiny black car accompanied by a wedding chauffeur is the perfect way to end the night of a lifetime. Just think of the photo ops!
It's all part of the lavish black car service experience. 
4. Stream Shows and Movies
Yes, you read that correctly! One of the most popular amenities offered by black car services are fast, free streaming of all your favorite shows and movies. Want to stream an episode of Friends or The Office while you're on the road? We've got you covered! Going on a longer ride and want to entertain your family with recent box office hits? Click PLAY on a movie! 
If you have any specific requests before your ride, be sure to notify our 24/7 customer support crew. We'll hash out all the details with you. After all, you can always count on your chauffeur to give you the VIP treatment! 
Keep reading to see how else professional transportation will exceed your expectations.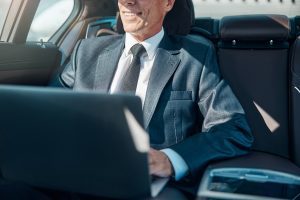 5. Get Maximum Privacy with Tinted Windows
If you're really wondering, "What is a black car service all about?", then this will definitely clarify it for you! As we mentioned before, the cars are jet black. To compliment the beautiful exterior of the vehicle, the windows are tinted.
But, aside from the dashing all-black look, why tinted windows? We're glad you asked!
Benefits of Tinted Windows for Luxury Transport
Privacy and safety are an absolute MUST when you travel with a professional transportation service. That's why all of our high-end vehicles have quality tinted windows. 
It's no secret that there are many big benefits of tinted vehicle windows, including enhanced privacy, security, and even protection from the sun.
Shield your friends and family from the eyes of other motorists and pedestrians or feel a sense of security to manage your personal business in private. Plus, experience significantly LESS amounts of Florida's bright and hot sunshine from entering the windows. It's almost as if your luxury vehicle is wearing sunglasses! 
No matter where you're going, tinted windows are definitely an amenity you don't want to travel without. 
6. Listen to All Your Favorite Jams
Here's a fact: No ride is complete without music! 
Don't skip a beat as you cruise down the highway to your next destination. Simply ask your personal chauffeur for the aux cord and then jam out to your heart's content! 
If you prefer not to use your own music, your professional driver will be more than happy to turn on the radio or plug in a tasteful playlist of their own. Classical, country, jazz, R&B… you name it, they'll play it. You can also request family-friendly options to ensure everyone on board has an enjoyable experience.
7. Recharge with Complimentary Water
Florida is HOT. That's why your chauffeur has come prepared to help you relax and refresh with complimentary, ice-cold water.
Upon embarkation, your personal driver will offer you a bottle of water to get you started. Need more refreshments during your ride? Just ask! Your driver will be more than happy to serve you at your convenience.
All of the water is bottled to ensure the highest quality standards. Now all you have to do is sit back and enjoy the ride. 
8. Exclusive Access to WiFi
In today's modern world, WiFi is super important, especially while you're traveling! 
Whether you have important business to catch up on or you want to text your friends and family, you will always have a secure connection in your luxury chauffeured experience. 
Every black car service vehicle is equipped with exclusive access to a private and secure WiFi hotspot. No matter where you're driving, you'll be able to call, message, and connect to social media platforms at your leisure!
Ready to Book a Black Car Service? Choose Kingdom Car Service!
As you can see, a black car service is the BEST way to travel if you want to arrive at your destination in comfort and in style. If you're ready to reserve a personal chauffeur and ride in a gorgeous, jet black vehicle, look no further than Kingdom Car Service.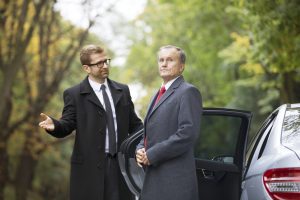 At Kingdom Car Service, we strive to not only meet your expectations, but to exceed them! With your comfort and safety at the forefront of our minds, we compliment your ride with top-of-the-line amenities to ensure you always arrive in style. 
Are you ready to book your professional transportation service in Orlando, Florida? Give us a call at (689) 218-0826 to schedule a ride.