Mazel Tov! You did it! You've reached the age of 13 (or 12 for girls) and are now considered an adult, or at least by Jewish standards. 
After months of dedicated preparation, mastering your Torah portion, and crafting an insightful yet witty D'var Torah (word of Torah/sermon), it's time to revel in the joyous celebration that is your Bar or Bat Mitzvah party. 
But how can you ensure that your party stands out among the many celebrations within your Hebrew school community? 
In this blog, we've curated a list of exceptional Bat/Bar Mitzvah party ideas to make your milestone event truly unforgettable.
1. Enter In Style
One of the best moments of your bar or bat mitzvah is when your guests gather around the dance floor for your grand entrance. 
For a truly memorable and awe-inspiring moment, consider doing something a little BIGGER.
Consider a smoke or bubble machine or a big light display to get your guests excited about what's in store and leave a lasting impression. Make sure you also pick a song that matches the energy and gets everyone dancing. 
Speaking of getting people dancing…
2. Get Dancers 
One of the biggest parts of the party is the dancing! Keep the energy high on the dance floor by hiring professional dancers.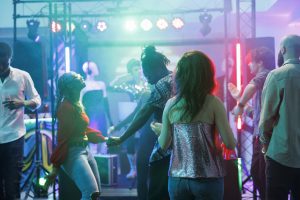 From leading your guests in the YMCA and Electric Slide to getting the awkward shy teens to break out of their shells, dancers are a fantastic way to ensure everyone is on the dance floor and having a great time.
You can go the traditional route or consider something more unique like party robots or LED performers. Ask your DJ if they have any dancers in their repertoire.
3. Plan Games
Plan a few dance floor games to break up the dancing and keep everyone engaged throughout the night. Here are just a few fan favorites to choose from: 
Name That Song

Limbo

Hula Hoop Contest

Musical Chairs

Bar Mitzvah Boy/Bat Mitzvah Girl Trivia 

Scavenger Hunt
Your D.J. should be familiar with these games and even have a few ideas of their own. 
4. Use A Photo Booth
There's nothing worse than getting all dressed up and not having a photo to show for it. Set up a stylish and fun photo booth at your Bar/Bat Mitzvah party to allow guests to capture memorable moments. 
You can find fun backdrops or props that will be sure to make everyone laugh. These silly hats and mustaches give people something to do so they aren't stuck in stiff poses. 
The best part is this can double as your party favor allowing your guests to bring home custom prints.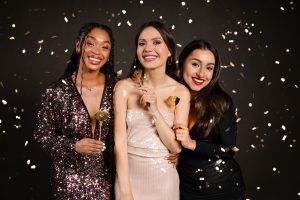 5. Go Crazy With Desserts 
Treat your guests to an array of delectable desserts or a fun custom cake. Dessert is often the favorite part for the kids so don't be afraid to get creative. 
With everyone dancing and running around consider setting up an Italian ice or gelato station to cool down the festivities.
For those with a sweet tooth, you can do a donut bar with ALL the toppings or rent a chocolate fondue fountain. 
6. Elevate Your Food
Why settle for the same old buffet table when you can elevate your Bar/Bat Mitzvah celebration with an extraordinary culinary experience? 
Elevate your food game by bringing in food trucks where you can get creative with the cuisine. You can do a taste around the world with Israeli, Mexican, and Japanese food trucks or just pick your favorite.
Alternatively, set up a make-your-own mini pizza bar where guests can customize their pies. This would be sure to excite both the kids and adults. 
7. Get Creative With Your Party Favors
Show your appreciation to your guests with thoughtfully chosen party favors that reflect your personality and the theme of your celebration. Personalize them by adding your name and a fun pun that plays off your theme.
Caricaturist to draw cartoon portraits

Airbrush artist for customized t-shirts or hats 

Kippas in your party's color scheme

Socks/flip-flops for the dance floor  

Sweatshirts with a fun design 
These are just a few Bar Mitzvah party ideas, but whatever you decide, make sure it's something they can use again and you may even see them out and about repping your name. 
8. Make Mocktails
With all the dancing people are sure to get thirsty and want a refreshing drink. Get a bar that can serve cocktails to the adults and mocktails to the kids. 
You can make up your own cocktail and throw in fun treats like cotton candy or pop rocks or follow a mocktail recipe. Shirley Temples, made of Sprite and grenadine, is the perfect sweet drink for kids that still feels "adult". 
Give the mocktail a fun name that plays off of your name or your theme to make it extra special. 
9. Entertainment Beyond The Dance Floor
While you may have hired dancers to get people on their feet, let's face it, not everyone is going to dance. So give them something to do so they aren't just sitting at their tables the whole time.
Create a designated entertainment area to keep guests engaged and having a blast throughout the celebration.
Some fun games you can have include:
Arcade games

Air hockey

Pinball machines

Ping pong

Foosball

Jenga 

Hoops
Just keep in mind the size of your venue to make sure there is enough space for whatever you get. 
10. Hire Performers
Performers can take a synagogue with a few streamers and turn it into an immersive full-themed party! 
For example, if you are doing a circus theme you can hire a juggler or acrobat. Or you can throw a magic party and get a real magician!
You can even surprise your guests and plan a way for you to get involved in the performance. 
11. Select A Professional Car Service
Arrive in style at your venue with your closest friends and family by opting for a luxury black car service that will make you feel like the star of the night!
Not only is it a fun memory but you get to skip the mundane task of walking to your car and navigating through traffic. It's also perfect for the parents of the bar mitzvah boy who want to have a few drinks and not drive. 
Plus if you pick the right company they may go the extra mile and help you celebrate by putting a bar/bat mitzvah message on the video board.
Make Your Bar/Bat Mitzvah Spectacular with Kingdom Cars 
Tonight is your night so you deserve to feel special and nothing says special like a VIP entrance!
If you're looking for the best professional car service in Orlando for your bar or bat mitzvah, consider Kingdom Car Services. We offer luxury transportation services with licensed chauffeurs for bar and bat mitzvahs. 
We work hard to go above and beyond to make your day stress-free and your trip comfortable. From our online booking which makes it easy to select your car to our friendly and attentive drivers. 
Book a vehicle online or contact us at (689) 218-0826.